The Performance Mind is an online digital program that introduces the student to the R.E.P.E.A.T. Model. (Route to Exceptional Performance Each Actual Time). The model is underpinned by evidence and is used and shown to work in all areas where exceptional performance is not a nice thing to have, but is in fact a necessity.


We have studied, researched and worked in some of the most competitive industries and vocations and always see the exceptional results and outcomes of individuals and organisations that develop their minds for success, both individually and collectively.


This program will give you a competitive edge in all that you want to do, whether personally or professionally and will:
Ensure that you learn how to perform under pressure.

Use stress and pressure as a supportive and positive lever.

Learn the simple trick to trigger brain motivation and mindset.

Support your mental health and wellbeing at the same time.


The program consists of 12 modules and are video based supported by a course guidebook and a course workbook. These include neuroscience, challenge mindset, smart thinking, confidence, focus, achievement goals, self regulation, self awareness, adapt under pressure and achieving full potential etc.


Access Immediately: Special Offer £47





Course Listing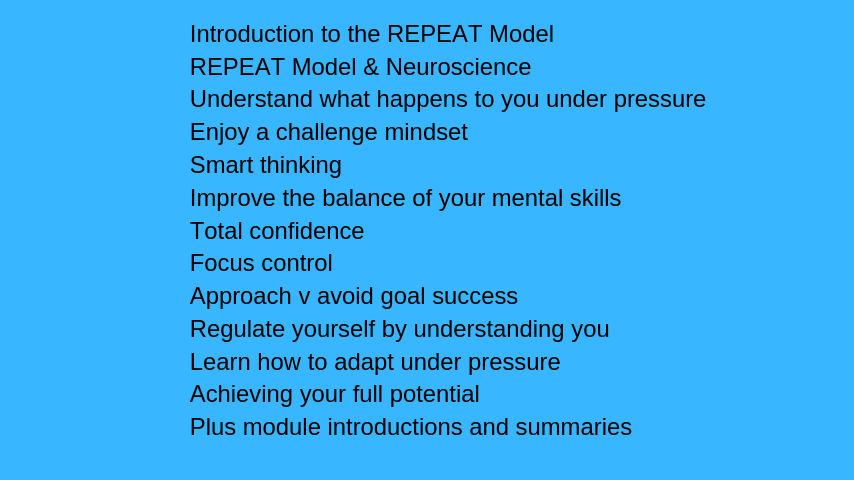 All financial transactions are handled by Stripe a specialised payment processor. Stripe has been audited by a PCI-certified auditor and is certified to PCI Service Provider Level 1. This is the most stringent level of certification available in the payments industry. To accomplish this, they make use of best-in-class security tools and practices to maintain a high level of security at Stripe. We do not hold, see or store any of your financial details.